Tel: +44 1953 788060
Email: info@sorsis.com
© Sorsis Limited 2009-2018
Website last updated 27 Apr 2018


There is no simple, universal, answer for reporting requirements. We help to provide the solution without selling you a 'one size fits all' white elephant.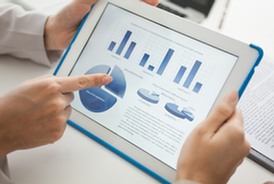 If you have a large financial database and lots of users then you may need a separate reporting database. The reporting database should be based on a cube design and updated incrementally at regular intervals. Developing a reporting database will take a while and all your reports will need to be re-written, so it is no small task. It can have a massive impact on reporting speed and give you 'slice and dice' functionality. Bear in mind that if you already have SQL Server then you have the tools to do the job already.
If you don't want to go that far then consider setting up some standard reporting views or stored procedures in the database. This should help reduce all the table joins and complicated formulae in your reports.
Either way, we strongly suggest that your reporting tool (Crystal, Reporting services etc.) should be used for layout and presentation only, while the business rules and computations should be carried out in the database objects. If you have ever tried to deconstruct someone else's Crystal report you will understand why.
If you are not getting the reports you need from your system, buying a new reporting system is not always the answer. You will still need to understand your data structures and make sure that they are consistent and complete. By buying a new system you may just be paying through the nose to do what you could do with your existing tools anyway.
Do not be intimidated by reporting jargon, there is a lot of it about and it is mostly irrelevant. What you need is the right solution for the right price, delivered on budget and on time. That is what we do.
If you have the time and the personnel we can transfer all the knowledge you need to keep developing your solution.
If you use Crystal, Reporting Services or Excel reports we can supply an integrated front end to deliver your reports to your users. We integrate with the finance system security to deliver only the reports that the users should see, and apply any structural security too (e.g. which users can see which Departments).
We also provide a full audit trail of who has opened which reports and provide an automated report distribution function.